John W. Hilton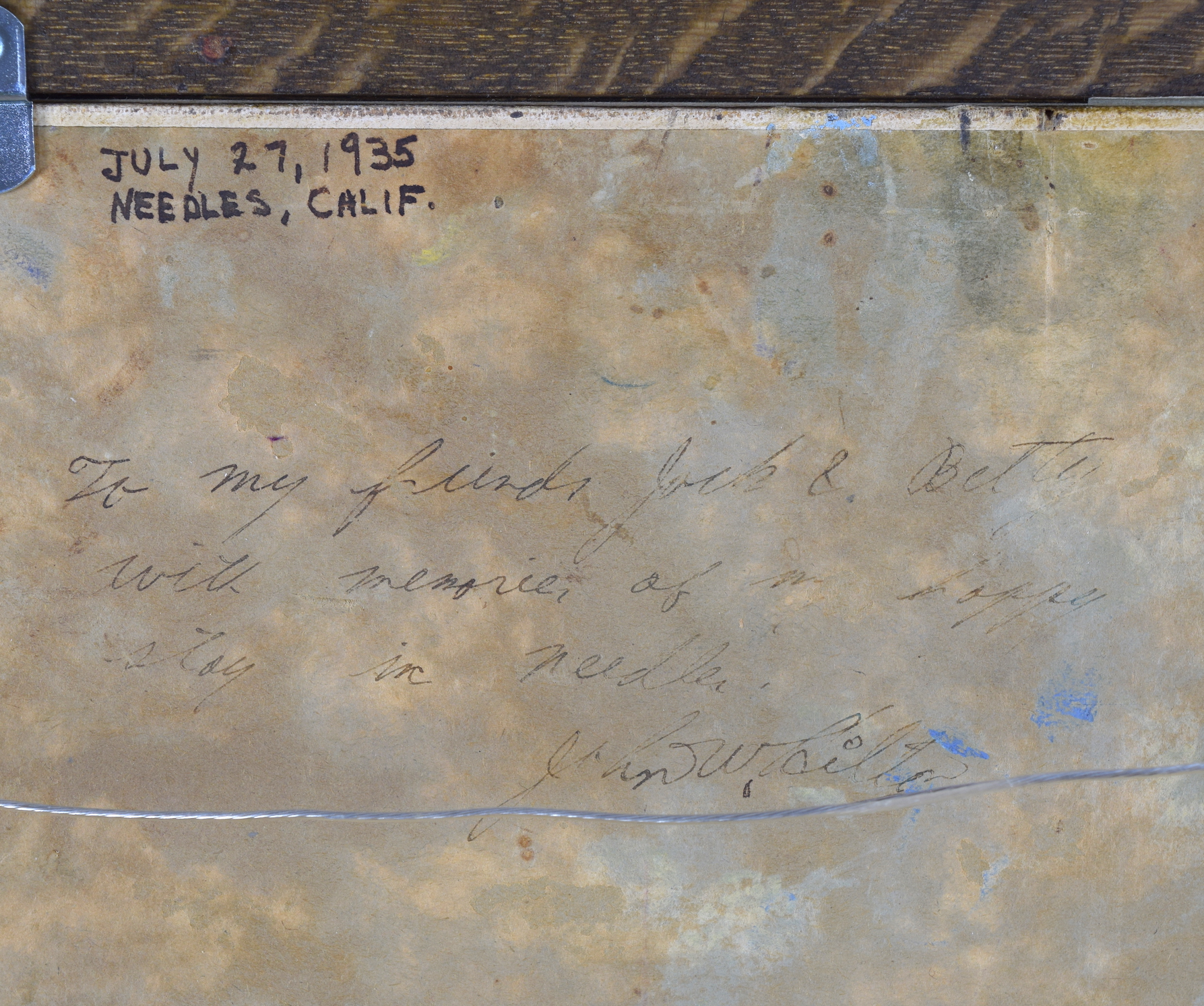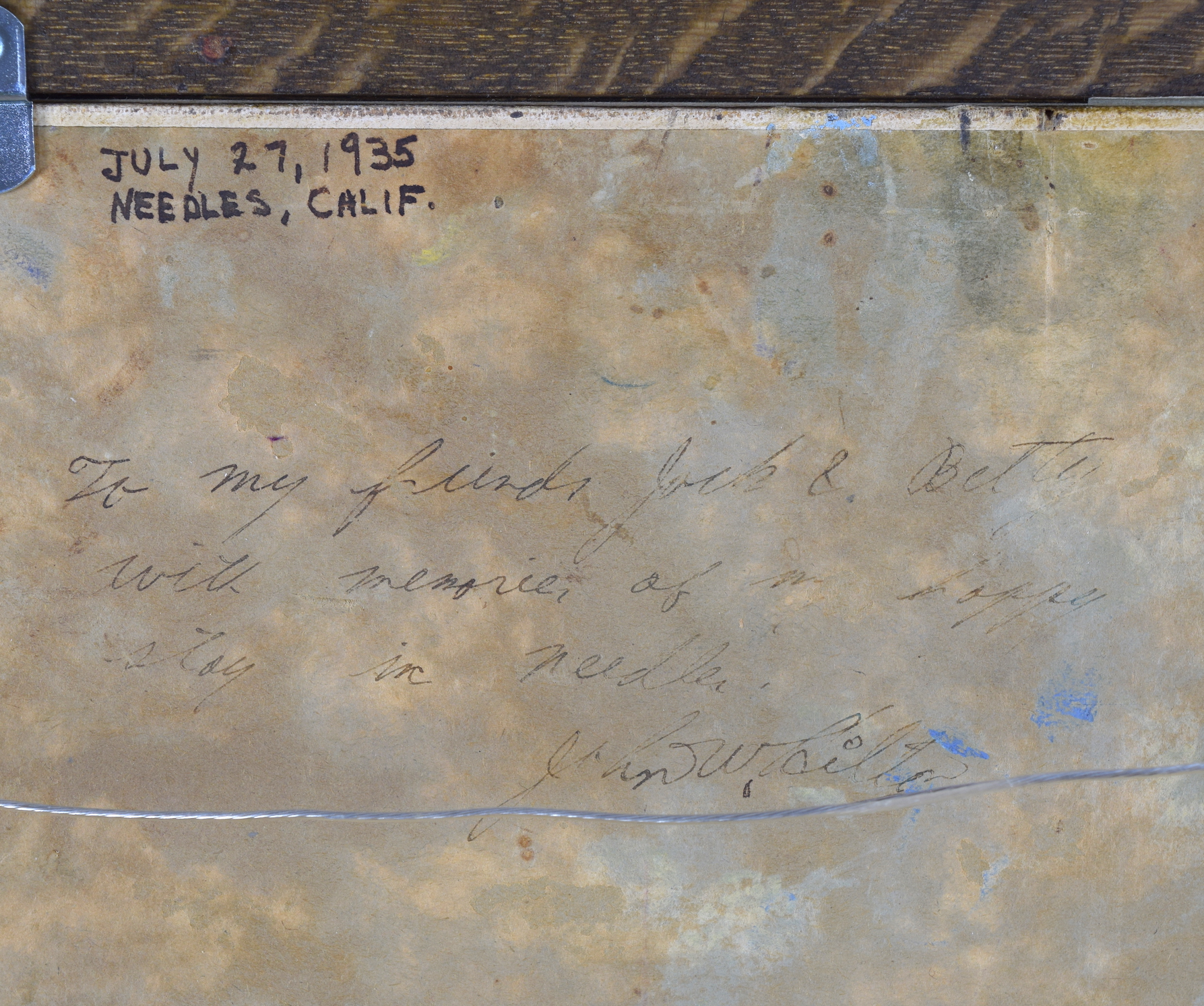 John W. Hilton
Dead Mountains Range - Near Needles, CA, 1935
- Oil on canvas board
- Panel: 12" high x 16" wide
- Frame: 17 5/8" high x 21 5/8" wide
- Signed lower right and on reverse; date & inscription verso
PRICE: SOLD INQUIRE
About the work
John Hilton (1904-1983) captured this image of the Dead Mountains Range a short distance from Needles along the historic Mojave Road, which begins on the California side of the Colorado River across from the ruins of Fort Mojave in Arizona.
An inscription verso reads "To my friends Jack & Betty with memories of a happy stay in Needles. John W. Hilton," dated July 27, 1935, along with "Needles, Calif." Housed in a hand-crafted oak frame with gilt slip from Holton Studio Frame-Makers of Berkeley.
Hilton completed this work at a time when he was realizing a breakthrough in his artistic career. The year 1935 included his one-man show at the Desert Inn in Palm Springs, sponsored by Inn owner Nellie Coffman and Harriet Day, the Desert Inn Gallery's curator. Support from Coffman, known as the "Mother of Palm Springs," gave Hilton's works exposure to well-to-do visitors who frequented the Inn.
Hilton and Coffman were kindred spirits in their love of the desert, the latter once famously saying she was entranced by the "space, stillness, solitude and simplicity" of the desert. Hilton frequently expressed similar sentiments in his writings, and occasionally in the titles of his paintings.
About the artist…
In an article from the March 1960 edition of Arizona Highways, Hilton declared: "This is my desert! It extends through Arizona, southern California, Nevada, southern Utah, New Mexico and northern Mexico states of Sonora, Chihuaha, Sinaloa and Baja California. . . . It is a land of peace, silence and boundless skies."
Hilton's early artistic endeavors were filled with frustration, but in the 1930s and 40s he worked with, and was encouraged by, many of the fine painters who visited or lived in the desert, including Nicolai Fechin, Maynard Dixon, Jimmy Swinnerton, and Clyde Forsythe.
Dixon in particular had two profound effects on Hilton: First, he convinced Hilton to throw away his early paintings, even though some had won awards at smaller exhibitions and shows. Hilton later remarked that an artist could never progress to the next level if he fell in love with his work. Dixon also convinced him to throw away his brushes and use a knife. Dixon felt Hilton's images were too precise, almost photographic. Hilton claimed that converting to knife painting was a relatively effortless transition if only because he easily tired of cleaning brushes.
Gradually the recognition and accolades came, and Hilton eventually became one of the few artists of his day to enjoy significant commercial and critical success during his lifetime.
Hilton's works have been widely exhibited, including the Biltmore Salon Los Angeles; the Riverside Mission Inn; Paschke's Gallery in Riverside; the Laguna Beach Art Gallery; Los Angeles City Hall and Public Library; the Southwest Museum; Palace of the Legion of Honor in San Francisco; La Jolla Art Gallery; Desert Magazine Art Gallery; the Desert Art Center of Palm Springs, and numerous other galleries and shows where his works were often sellouts.
Packaging and Shipping
We gladly provide shipping quotes upon request.
Sales tax
Items shipped or delivered to a Nevada address will include applicable sales tax on the purchase invoice.