Charles Bradford Hudson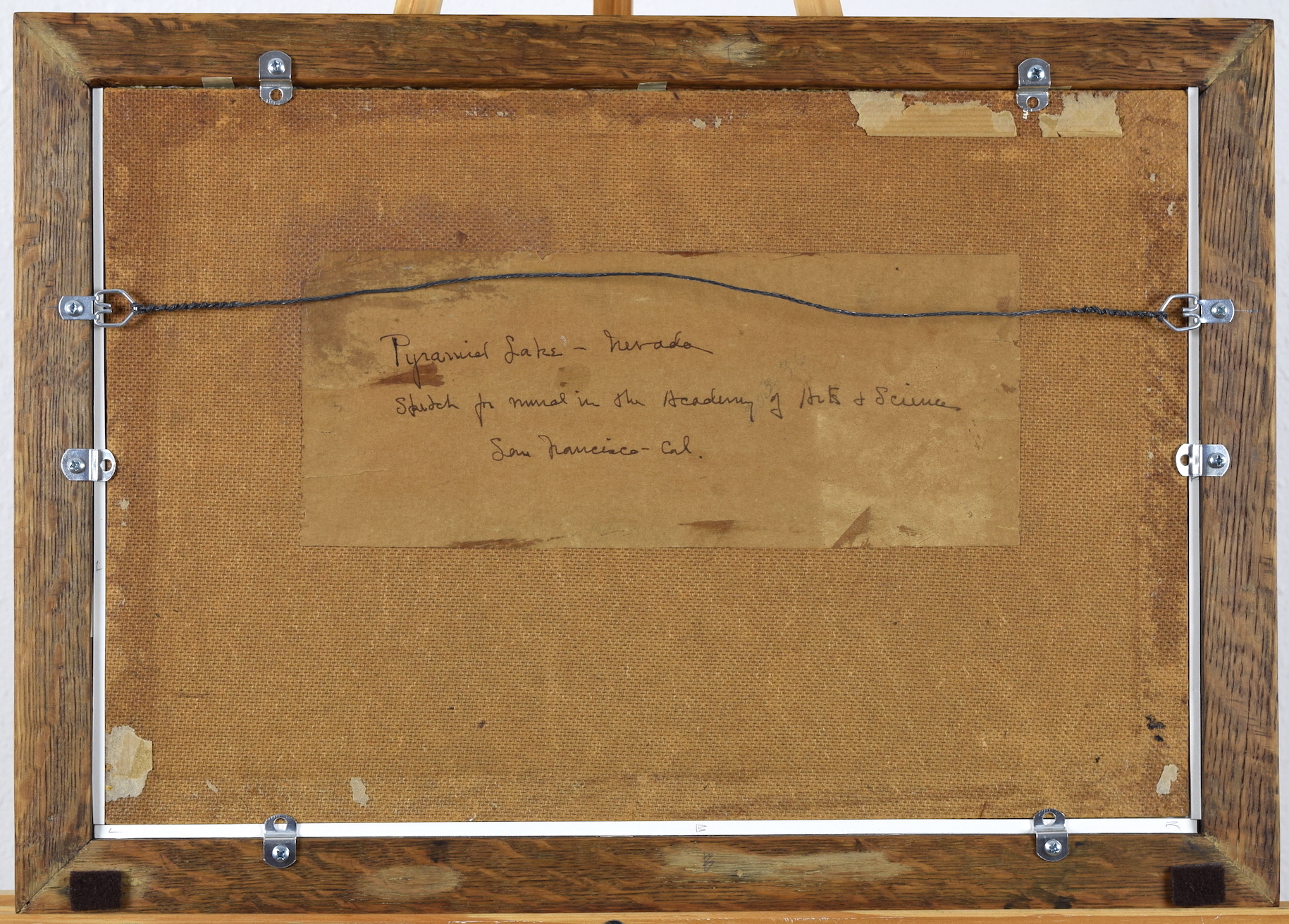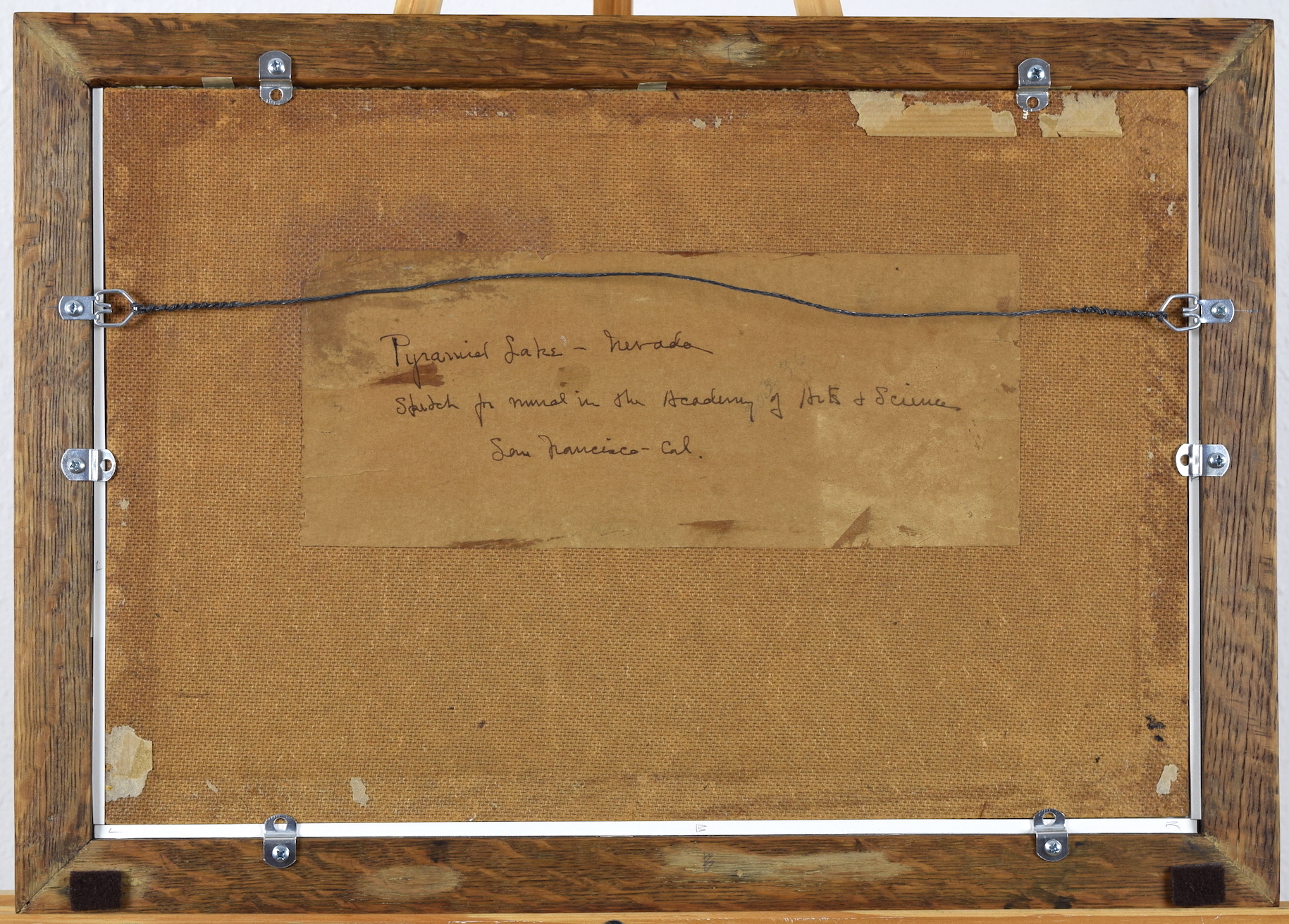 Charles Bradford Hudson
Pyramid Lake, Nevada, 1917
Oil on canvas mounted to masonite

Sight: 11.25" high x 17" wide

Frame: 14.5" high x 20.5" wide

Signature: Lower left
Click image to enlarge.
PRICE: SOLD INQUIRE
About the work
An important historic oil painting created by California artist Charles Bradford Hudson (1865-1939) as a preparatory study for one of twelve murals commissioned in 1916 by the California Academy of Sciences (CAS) at Golden Gate Park in San Francisco, California.
Hudson's incredibly realistic murals served as backgrounds for exhibits that featured life-like models of animals situated in a setting designed to closely mirror their natural habitat. The final paintings were enormous, with some measuring up to 25 feet in length. Hudson painted the murals with attention to the finest details in order to recreate a perfect likeness of the landscape and environment where the featured animals resided in nature.
Our painting was completed in 1917 when Hudson traveled to Anaho Island at Pyramid Lake to create studies for the White Pelican Group mural, which he completed mid-year of 1918.
The Pyramid Lake study for the White Pelican Group is one of only two known surviving works used by Hudson as reference material for the murals.
We are extremely grateful for assistance from Victor Springer, Senior Scientist Emeritus at the Smithsonian National Museum of Natural History, who provided invaluable information about the history of CAS murals. This information lends important historical context for Hudson's Pyramid Lake study.
About the artist…
Charles Bradford Hudson was born in Ontario, Canada, in 1865, where his parents lived briefly. He earned a degree at Washington's Columbian University before moving to New York, where he studied at the Art Students League under George DeForest Brush (1855-1941), famed for his Indian subjects, and with Munich-trained artist William Merritt Chase (1849-1916).
In 1893, Hudson enrolled at the Academie Julian in Paris. He studied at the private school under William Adophe Bouguereau (1825-1905), one of the great academic masters of the era. In a short time Hudson's work developed to the point where it would later be included in the International Exposition in Bergen, Norway in 1898 and the Exposition Universelle in Paris in 1900.
When Hudson returned from Europe he began a career in illustration, providing pictures for national magazines and books. He had always been interested in the natural world, and he found a second calling by painting illustrations of fish and animals for scientific publications. Because of the quality of his work and his dedication, Hudson was hired to go on expeditions funded by the Bureau of Fisheries. On trips to the Caribbean, the Great Lakes, the rivers of California and the Pacific Coast, he would paint examples of fish as they were caught and identified.
After the San Francisco Earthquake the entire city had to be rebuilt, and one of the last major structures to be completed was the San Francisco Academy of Sciences in Golden Gate Park, where Hudson gave life to the dioramas for the pleasure of thousands of visitors.
Sources used: U.S. Department of Commerce - Marine Fisheries Review, Fall 2009, Vol. 71, Issue 4, article titled "Drawn to the sea: Charles Bradford Hudson (1865-1939), artist, author, army officer, with special notice of his work for the United States Fish Commission and Bureau of Fisheries," by Victor G. Springer and Kristin A. Murphy; biographical information extracted from the AskArt biography by Jeffrey Morseburg, copyright 2009, accessed 23 March 2018.
Packaging and Shipping
We gladly provide shipping quotes upon request.
Sales tax
Items shipped or delivered to a Nevada address will include applicable sales tax on the purchase invoice.